Now some of you will already know this about me – but for some of you, today I want to share with you a little bit about my life that you may not have known before.
You wouldn't guess it by the state of my backyard right now – but I'm actually a bit of a gardener. When Heather & I were first married – I actually spent a few months working at the Meadowbrook Greenhouses just west of town and it was somewhere around that time that I took an online landscape design course. I learned how to survey a yard and then how to plan and design a beautiful garden space. I put that to use at our home in Mirror.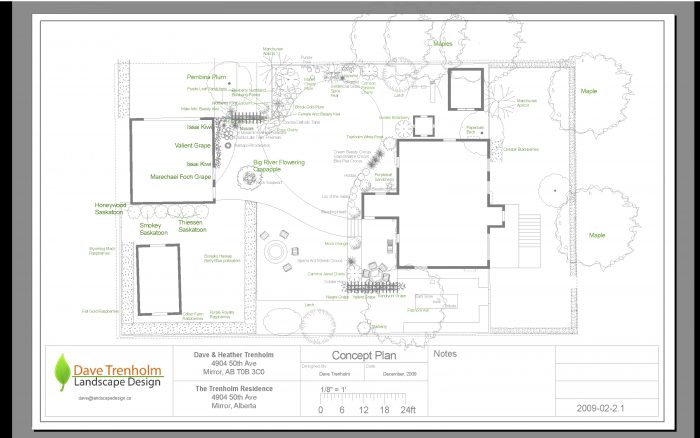 This was the plan that Heather & I came up with for our yard. It's kinda hard to make out everything from this map – but for those who have know us for a while and have been to our house in Mirror before, you might be able to recognize some of the elements.
I've actually got a couple before and after pictures to give you an idea of how it all came together.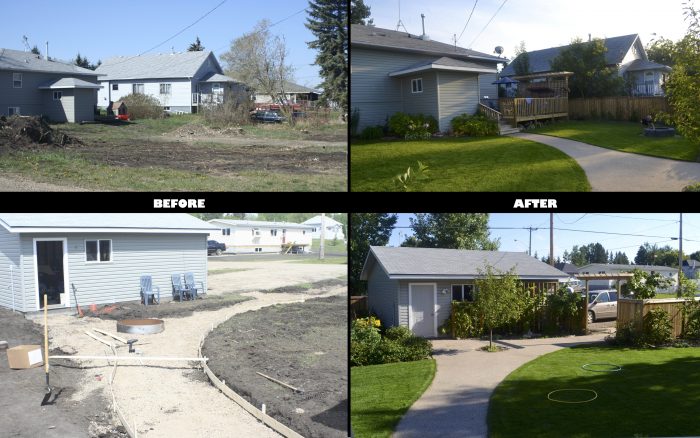 When we started working on the sidewalk, people thought it was pretty strange to put a fire pit in the middle of the sidewalk…. But no, it wasn't a firepit. It was for a tree.
I'll tell you, it was a lot of work, but it's pretty cool to see the transformation from a barren wasteland to a beautiful, productive garden. I think that's probably why I love gardening and landscaping. I love to see that transformation. I love to see things grow and flourish and be beautiful and productive.
And that's probably why I love pastoring too. It's the same idea, just in a different realm. I love to see God transform people's lives – helping them to grow and to flourish and be productive!
And I bring all this up today because earlier this week, I received in the mail my annual catalogue for T & T Seeds. This is probably my favourite thing to get in the mail – especially in the dead of winter. When everything is cold and frozen – there is nothing green anywhere – it's all brown or covered in snow and ice. Summer has been long forgotten and there seems to be no sign of life anywhere. You start wondering if winter will ever end.
And then, in the mail, comes this beacon of hope! The seed catalogue! It brings us the promise that winter will not last forever – spring is coming. Soon the ice and snow will melt – new leaves will sprout on the trees, the little seeds that we buy and bury in the ground will soon push through the dirt and grow into flowers and vegetables. New life is just around the corner. There is hope.
And in a lot of ways, Christmas is a lot like that seed catalogue. Christmas is a reminder of hope.
Sometimes I wrestle with how much emphasis we put on Christmas. You know, the Bible never actually tells us to celebrate Christmas – there's no mention in the Bible of the early church celebrating Jesus' birth. In fact, in my Bible there is only about 4 pages out of about 1200 pages of Scripture that talk about the birth of Jesus. That's only 0.3 percent of the Bible that talks about Christmas. And yet, we often take the entire month of December (1/12th of the year) to talk about it. Why is that? Well, I think it's because Christmas is like that seed catalogue – it offers us a beacon of hope. It reminds us that God always keeps His promises. God is in the midst – even right now – of redeeming and restoring his Creation back to the way He intended it. 
Leave a Comment