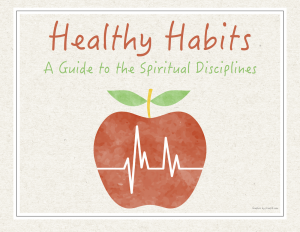 As I grow older old, I've noticed that being healthy and fit is not my default state. If left alone, that's not where I naturally end up. When I look back over my last 15 years, I can see my tendency to slide towards being unhealthy and unfit.
Of course, in my younger days, it certainly seemed like health and fitness was the default. When I was in my 20s, it didn't seem to matter what I ate or didn't eat. I didn't have to go to the gym or really, pay any attention to my health or fitness. It seemed I was just naturally in pretty good shape.
But now, as the years have passed, I increasingly find that that is not the case! I can no longer do all those things that I once did. I can't eat whatever I want without consequence. When I'm doing physical activity, I get tired quicker. My energy runs out sooner than I'd like. My body complains loudly after I do some of those strenuous activities. 
I used to spend a lot of time at camp and back then I had just as much endurance and energy as any of the kids. Of course, I was never the most athletic guy – I've never been super muscular or particularly skills at sports. But I certainly wasn't out of shape. I loved the wide games at camp. I could run pretty quick, so I loved capture the flag or prisoner's base or all those running games.
Well, I played floor hockey over at the Innisfail Baptist Church a few weeks ago – and after an hour of running around, (and certainly not at the intensity that I used to) I was pretty exhausted. And the next day, man, I was feeling it! 15 years ago, I could have done that with no problem. But not anymore.
And its not just a matter of getting older though… The guy in charge of the floor hockey was at least 10 years older than me and he was still quicker at the end of the night than most of the young guys! So it's not simply an issue of age – it's a matter of health and fitness.
So over this past year in particular, I've noticed more and more that being healthy and fit is not my default state. Unless I do something to stop this downward progression, I will increasingly grow less healthy and less fit. My energy levels will continue to drop.  My ability to run or play games with my kids or go for hikes or all those things – I'll be less and less able to do those things. And that's certainly a concern for me.
We just helped move my Grandma – who is 94 year old now – into a senior's home just a few weeks ago. She has certainly slowed down, but for a 94 year old, she done a pretty good job over her lifetime of keeping healthy and fit. I hope when I'm 94 years old, I'm as healthy and fit as she is.
I was out for a walk a couple weeks ago and I stopped to chat with my neighbour who was out edging his lawn. He was mostly done by the time I came by – he had edged up and down the sidewalk in front of his house and had done most of the walkway up to his door. There was quite pile of sod that he had trimmed up – and as we were chatting, he told me that he was cerebrating his 80th birthday that week. Man! I hope when I'm 80 years old, that I'm healthy and fit enough to still do as much work as what he was doing.
But I'll tell ya, if I don't intentionally do something to change my natural direction, I won't be. I've got to intentionally work at staying healthy. If I don't want to be shuffling around with my walker when I'm 60, then I've got to start working at being healthy and fit today. If I still want to be able to play and run with my grandkids or my great grandkids when I'm 70, then I need to start working at it now.
And it does take work – that's for sure. Recently, I've been experimenting – trying to find the best way for me to stay healthy and fit. And so there's two specific things that I've been trying. One of them is just trying to eat a little more healthy. I found an app that I like for my phone that tracks what I eat. I find that just seeing how much I eat in a day helps me refrain from over-doing it on snacks and second helpings and such. But it's hard… There are a lot of good things to eat in this world, so it's work for me to exercise that self-discipline and make sure I don't over do it.
The other thing I've been trying to do is just to exercise more. As a pastor, much of my day is spent sitting and having coffee with folks or reading and studying or working on my sermon in front of my computer. There's not a lot of physical activity required. So I've had to make a particular effort to be more active in my recreation time. In the summer time, that meant lots of family bike rides or going for a walk around the block. Sometime when I can, I try to walk to the church instead of driving there. But again, it all takes work. It's much easier to drive across town than to walk – but if I want the benefit of being healthy and fit – especially in my later years, then I've got to put the work in today and make the sacrifices today so that I can enjoy that later.
And I tell you all this this morning because I've found that my spiritual health and fitness works very much the same way. Just like how everyone wants to be physically fit and healthy, as Christians, I think we also want to be spiritual fit and healthy.
We want to enjoy a close relationship with God. We want to continually make right choices and honour God with how we live our lives. We want to be like those great heroes of the faith that we admire so much. We want to do our part in helping others come to know and love Jesus. We want to experience the full and abundant life that God has promised us.
But unfortunately, spiritual health and fitness isn't our default state either. As people born with a sinful nature, our natural inclination is away from God – not towards him. And just like how, without intentional effort, we tend to grow physically unhealthy and out of shape, likewise, without intentional effort, we tend to grow spiritually unhealthy and out of shape.
Leave a Comment