Now some of you will already know this about me – but for some of you, today I want to share with you a little bit about my life that you may not have known before.
You wouldn't guess it by the state of my backyard right now – but I'm actually a bit of a gardener. When Heather & I were first married – I actually spent a few months working at the Meadowbrook Greenhouses just west of town and it was somewhere around that time that I took an online landscape design course. I learned how to survey a yard and then how to plan and design a beautiful garden space. I put that to use at our home in Mirror.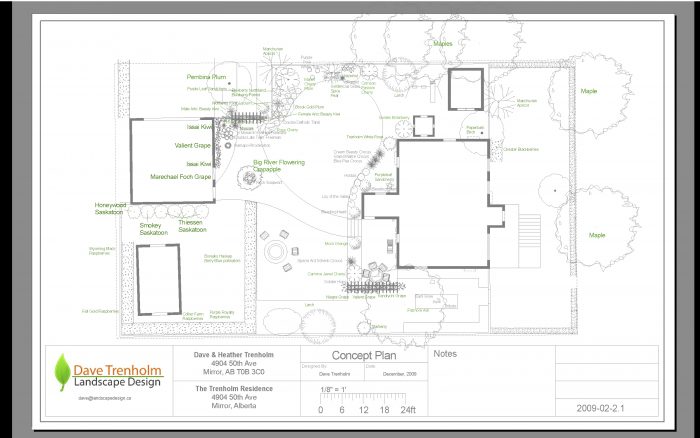 This was the plan that Heather & I came up with for our yard. It's kinda hard to make out everything from this map – but for those who have know us for a while and have been to our house in Mirror before, you might be able to recognize some of the elements.
I've actually got a couple before and after pictures to give you an idea of how it all came together.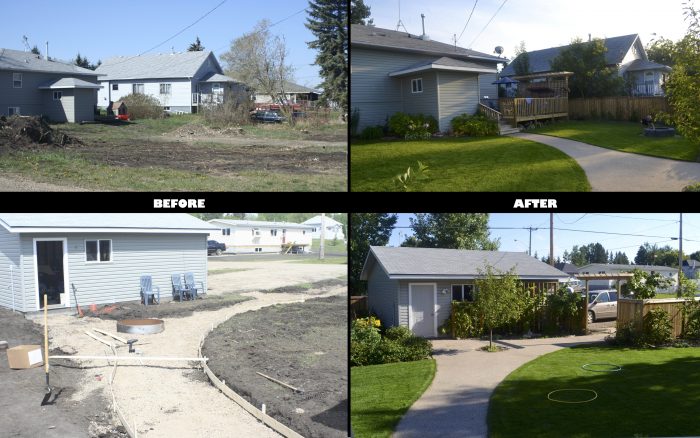 When we started working on the sidewalk, people thought it was pretty strange to put a fire pit in the middle of the sidewalk…. But no, it wasn't a firepit. It was for a tree.
I'll tell you, it was a lot of work, but it's pretty cool to see the transformation from a barren wasteland to a beautiful, productive garden. I think that's probably why I love gardening and landscaping. I love to see that transformation. I love to see things grow and flourish and be beautiful and productive.
And that's probably why I love pastoring too. It's the same idea, just in a different realm. I love to see God transform people's lives – helping them to grow and to flourish and be productive!
And I bring all this up today because earlier this week, I received in the mail my annual catalogue for T & T Seeds. This is probably my favourite thing to get in the mail – especially in the dead of winter. When everything is cold and frozen – there is nothing green anywhere – it's all brown or covered in snow and ice. Summer has been long forgotten and there seems to be no sign of life anywhere. You start wondering if winter will ever end.
And then, in the mail, comes this beacon of hope! The seed catalogue! It brings us the promise that winter will not last forever – spring is coming. Soon the ice and snow will melt – new leaves will sprout on the trees, the little seeds that we buy and bury in the ground will soon push through the dirt and grow into flowers and vegetables. New life is just around the corner. There is hope.
And in a lot of ways, Christmas is a lot like that seed catalogue. Christmas is a reminder of hope.
Sometimes I wrestle with how much emphasis we put on Christmas. You know, the Bible never actually tells us to celebrate Christmas – there's no mention in the Bible of the early church celebrating Jesus' birth. In fact, in my Bible there is only about 4 pages out of about 1200 pages of Scripture that talk about the birth of Jesus. That's only 0.3 percent of the Bible that talks about Christmas. And yet, we often take the entire month of December (1/12th of the year) to talk about it. Why is that? Well, I think it's because Christmas is like that seed catalogue – it offers us a beacon of hope. It reminds us that God always keeps His promises. God is in the midst – even right now – of redeeming and restoring his Creation back to the way He intended it. 
And that's such an important reminder for us. We can lose hope so easily. We get discouraged and we get wrapped up in the right here and the right now. And the right here and right now isn't always so good. Life can beat us up and leave us weary and feeling hopeless. But there is hope – and Christmas is such a good reminder of that for us.
And so this morning, I want to go through and just remind us of some of God's promises and how Jesus has fulfilled or will yet fulfill each and every single one of them.
I want to start in the beginning. One of the very first promises of God in the Bible – and prehaps one of the most important promises in the Bible is found in Genesis chapter 3.
Now just to give you the context here, in Genesis 1 & 2, we read about how God created a beautiful and wonderful world for mankind. The universe, the plants, and the animals were all described as good. There was no 'bad'. At this point, sin and death were not part of the equation. There was no sickness, no pain, no sorrow, no broken relationships – it really was heaven here on earth. And for Adam & Eve – the pinnacle of God's creation – created in God's own image – life was as good as it could possibly get.
But as we continue reading in Genesis 3, we see how Adam & Eve rejected God and they chose instead to believe Satan's lie that they could be like god and as a result, sin and all it's terrible consequences entered the world.
And this was a disaster unlike anything the world has seen since. All of God's good creation was now tainted with sin. Life would become very difficult and filled with pain. In fact, mankind – again, created in God's own image, created to embody God's goodness – was now sinful and selfish. Their relationship with the source of life was severed and man began to die and decay – both physically and spiritually. This really was the most devastating disaster in history.
But this is where we get the first promise of hope. In the aftermath of all of this, God speaks to Satan, or the serpent as he is called here in Genesis. He says in Genesis 3:15…
15 And I will cause hostility between you and the woman,
and between your offspring and her offspring.
He will strike your head,
and you will strike his heel."
Genesis 3:15
Now at first glance, that might not seem very significant. It just sounds like mankind and serpent-kind weren't going to get along very well after this. But as you read through the rest of Scriptures, you begin to realize that there was more to this statement than meets the eye. This was actually a fantastic promise of hope.
Even though Adam & Eve, through their one act of disobedience and rebellion against God – had set the world down a track of sin, selfishness and suffering, God had a plan to intervene and make things right again.
This promise that an offspring of the woman (not an offspring of the man, but the offspring of the woman) who would strike the serpents head and that the serpent would strike his heel – was a promise fulfilled in Jesus.
Jump ahead a few thousand years – this is what we read in Matthew 1:18.
18 This is how Jesus the Messiah was born. His mother, Mary, was engaged to be married to Joseph. But before the marriage took place, while she was still a virgin, she became pregnant through the power of the Holy Spirit. 19 Joseph, to whom she was engaged, was a righteous man and did not want to disgrace her publicly, so he decided to break the engagement quietly.
20 As he considered this, an angel of the Lord appeared to him in a dream. "Joseph, son of David," the angel said, "do not be afraid to take Mary as your wife. For the child within her was conceived by the Holy Spirit. 21 And she will have a son, and you are to name him Jesus, for he will save his people from their sins."
22 All of this occurred to fulfill the Lord's message through his prophet:
23 "Look! The virgin will conceive a child!
She will give birth to a son,
and they will call him Immanuel,
which means 'God is with us.'"
Matthew 1:18-23
Several thousand years after Adam & Eve lived and died, God was going to send His Son, Jesus, to be born to the great great great….. granddaughter of Eve – to a virgin named Mary. And this baby Jesus would grow up and live a sinless life – and allow Himself to be put to death on a cross by sinful men. The serpent striking the heel would be Jesus' death on the cross. But the striking of the serpents head – would be Jesus' resurrection – His victory over Satan and sin and over death itself.
What God was telling Adam & Eve was that there was coming a day when He would undo the damage that was done. That He was going to turn things back to the way He had originally designed. Where sin and death would no longer be part of the equation of life. There will once again be no sickness, no pain, no sorrow, no broken relationships. It would once again be heaven on earth.
But that didn't all happen at the cross. Yes, the victory over sin and Satan and death was won by Jesus' death & resurrection, but you might have noticed that things are not yet back to the 'heaven on earth' stage. Sin seems to be just as present, or even more so today than ever. Everyone of us here suffer the effects of sin. We suffer from the consequences of our own sin – and we suffer the consequences of the sin of others. So what's going on?
Well, it's important to note that striking the serpent was only part of God's promises. Let me show you another – this is a promise that God made to King David.
And just to give you the background for this, King David was a tremendous king – he conquered pretty much all of Israel's enemies – he had peace on every side by this point – and so he wanted to build a temple to honour God and to give God a permanent home in Israel, so to speak.
However, God told David that he was not to be the one who would build a house for God – actually, God was going to build a house for David. It says in 2 Samuel 7:8-16…
   "'Furthermore, the Lord declares that he will make a house for you—a dynasty of kings! 12 For when you die and are buried with your ancestors, I will raise up one of your descendants, your own offspring, and I will make his kingdom strong. 13 He is the one who will build a house—a temple—for my name. And I will secure his royal throne forever. 14 I will be his father, and he will be my son. If he sins, I will correct and discipline him with the rod, like any father would do. 15 But my favor will not be taken from him as I took it from Saul, whom I removed from your sight. 16 Your house and your kingdom will continue before me for all time, and your throne will be secure forever.'"
2 Samuel 7:8-16
Now this is significant. God promises that he will establish David's house, his throne, and his kingdom forever.
That word 'forever' gives us a clue that there is more here than just what meets the eye. This is not just God telling David that there will be generation after generation after generation after generation of kings that come from David's family. Because, as we read through the rest of the Old Testament, we see that simply isn't the case. While David's family does rule Israel for a long time – eventually, the Assyrians and the Babylonians end up conquering Israel and so David's royal family doesn't rule forever by any stretch of the imagination. So there must be more to this promise.
Well, there is. The prophet Isaiah gives us a little more clarification. He writes in Isaiah 9:6-7:
For a child is born to us, a son is given to us. The government will rest on his shoulders. And he will be called: Wonderful Counselor, Mighty God, Everlasting Father, Prince of Peace. 7 His government and its peace will never end. He will rule with fairness and justice from the throne of his ancestor David for all eternity. The passionate commitment of the Lord of Heaven's Armies will make this happen!
Isaiah 9:6-7
So here we have the promise that an ancestor of David – one who is called Mighty God and Everlasting Father – will rule with fairness and justice for all eternity. So this is obviously not a dynasty of kings – this is one very unique king ruling forever.
And this is the king that the Israelites had hoped for centuries. In the 700 years following Isaiah's prophecy, Israel was repeatedly conquered. The were ruled by the Babylonians, the Persians, the Greeks, and the Romans. The longed for God to finally fulfil his promise of a king – the prince of peace – to rule them forever from the throne of David.
Well, about 1000 years after that first promise to King David – we read about another promise in Luke 1.  I'm going to start reading at verse 26 but watch for the subtle and not so subtle hints about how this promise was going to fulfill the first.
26 In the sixth month of Elizabeth's pregnancy, God sent the angel Gabriel to Nazareth, a village in Galilee, 27 to a virgin named Mary. She was engaged to be married to a man named Joseph, a descendant of King David. 28 Gabriel appeared to her and said, "Greetings, favored woman! The Lord is with you!"
29 Confused and disturbed, Mary tried to think what the angel could mean. 30 "Don't be afraid, Mary," the angel told her, "for you have found favor with God! 31 You will conceive and give birth to a son, and you will name him Jesus. 32 He will be very great and will be called the Son of the Most High. The Lord God will give him the throne of his ancestor David. 33 And he will reign over Israel forever; his Kingdom will never end!"
34 Mary asked the angel, "But how can this happen? I am a virgin."
35 The angel replied, "The Holy Spirit will come upon you, and the power of the Most High will overshadow you. So the baby to be born will be holy, and he will be called the Son of God.
Luke 1:26-35
As you read through this passage, you can't help but notice how clearly the Bible tells us that all these promises were about to be fulfilled in Jesus Christ.
Not only was Jesus the one who would strike the serpent and conquer sin and death – but He was also the one who would rule from the throne of David forever. He would be the Wonderful Counselor, Mighty God, Everlasting Father, Prince of Peace – who would rule for all eternity. His kingdom will never end.
But of course, that all begs the question: Well, where is that kingdom now? And actually, Jesus' own disciples had that question for him after his resurrection. They had realized that Jesus was indeed the one who would strike the serpent and rule for eternity. So now, after his resurrection, they assumed that obviously, Jesus would begin his rule. We read in Acts 1:6…
 6 So when the apostles were with Jesus, they kept asking him, "Lord, has the time come for you to free Israel and restore our kingdom?" Acts 1:6
This is the obvious question. Here we have Jesus – the Messiah – the one that God had promised to Adam & Eve would strike the serpent, the one God had promised to King David would be king forever.
Of course the disciples are going to ask "Is it time now? Are you going to take your rightful place as King forever? Are you going to wipe out Satan and sin and make things right again?"
You would think that after Jesus' death and resurrection, the answer would be "Yes it's finally time." But no, it wasn't. Not yet. Jesus responds in verse 7
 7 He replied, "The Father alone has the authority to set those dates and times, and they are not for you to know. 8 But you will receive power when the Holy Spirit comes upon you. And you will be my witnesses, telling people about me everywhere—in Jerusalem, throughout Judea, in Samaria, and to the ends of the earth."
 9 After saying this, he was taken up into a cloud while they were watching, and they could no longer see him. 10 As they strained to see him rising into heaven, two white-robed men suddenly stood among them. 11 "Men of Galilee," they said, "why are you standing here staring into heaven? Jesus has been taken from you into heaven, but someday he will return from heaven in the same way you saw him go!"
Acts 1:7-11
Now I don't know about you, but I think that if I were a disciple, I'd be just a little confused right about now. I mean, just moments ago they were standing with the Messiah – the one that God had promised literally thousands of years ago. They had seen him do miracles. They had seen him heal the sick and walk on water. They had seen him die and then rise from the dead. Clearly, Jesus was the one who would make all things right again.
And then, He leaves them. He goes back into heaven. They're left standing there wondering – "What just happened here?"
It seemed like nothing had changed. Like Jesus hadn't finished his job. He was supposed to be the King for all time – but they were still under the rule of the Romans. He was supposed to crush Satan's head and do away with sin and its consequences – but there was still pain and suffering in the world. He was supposed to make all things right again – but the world seemed just as messed up as it was before. So what's the deal?
Well, I think there's a passage in 2 Peter that will give us some insight. 2 Peter 3:8-9
"But you must not forget this one thing, dear friends: A day is like a thousand years to the Lord, and a thousand years is like a day. 9 The Lord isn't really being slow about his promise, as some people think. No, he is being patient for your sake. He does not want anyone to be destroyed, but wants everyone to repent." 2 Peter 3:8-9
The reason it seemed like Jesus hadn't finished his job, the reason that He hadn't wiped out sin and made everything right again – was because He was being patient for our sake. He wanted everyone to have a chance to repent from living as if they were they own king.
We all follow the example of our ancestor Adam – where we believe the lie that we can be our own god. We believe that we are the kings of our own little kingdoms. But that's just not the case. Jesus is King. And one day, every person on earth will acknowledge that.
Paul writes in Philippians 2:6-11 …
6 Though he was God,
he did not think of equality with God
as something to cling to.
7 Instead, he gave up his divine privileges;
he took the humble position of a slave
and was born as a human being.
When he appeared in human form,
8     he humbled himself in obedience to God
and died a criminal's death on a cross.
9 Therefore, God elevated him to the place of highest honor
and gave him the name above all other names,
10 that at the name of Jesus every knee should bow,
in heaven and on earth and under the earth,
11 and every tongue declare that Jesus Christ is Lord,
to the glory of God the Father.
Philippians 2:6-11
As the King of Creation, Jesus has every right to force us to acknowledge him as King – but he doesn't. Not yet anyway. We are currently in that period of grace where we have the chance to willingly acknowledge Jesus as our king and Saviour before the time comes where when we will have no choice but to acknowledge him as king and judge.
God's promise to wipe out sin still stands – He will indeed make all things right again – but not yet. But God is being patient for our sake. He wants to redeem and restore as many sinners as possible. God wants everyone to hear and accept this message of hope!
And so this morning I want to both challenge and encourage you. If you've put your trust in Jesus – if you've acknowledged him as your king and saviour – then I want to encourage you in that Jesus IS coming back. He WILL take his place as King forever. He WILL crush Satan and eliminate sin and its consequences forever.
However, those same truths serve as a warning for those who have not put their trust in Jesus -Jesus IS coming back. He WILL take his place as King forever. He WILL crush Satan and eliminate sin and its consequences forever.
It's the same truth, but it carries very different consequences, doesn't it? But the good news is, that either way – there is hope. It's not too late. Despite our sinfulness, we can choose to accept God's gift of forgiveness. Jesus, the Son of God, the baby in a manger – paid for our sins when he died on the cross. Simply by trusting in him, we exchange our sinfulness for his righteousness.
It's an amazing gift! And it's available to each and every single one of us. All of us can have this incredible hope!
I want to close by showing you one of my favorite passages. I know I bring up this passage fairly often, but it's so encouraging to me. It gives me hope. This is what we have to look forward to one day soon when Jesus does return and completes the job he set out to do. It's in Revelations 21 – starting at verse 3.
Then I saw a new heaven and a new earth, for the old heaven and the old earth had disappeared. And the sea was also gone. 2 And I saw the holy city, the new Jerusalem, coming down from God out of heaven like a bride beautifully dressed for her husband.
3 I heard a loud shout from the throne, saying, "Look, God's home is now among his people! He will live with them, and they will be his people. God himself will be with them.4 He will wipe every tear from their eyes, and there will be no more death or sorrow or crying or pain. All these things are gone forever."
5 And the one sitting on the throne said, "Look, I am making everything new!" And then he said to me, "Write this down, for what I tell you is trustworthy and true." 6 And he also said, "It is finished! I am the Alpha and the Omega—the Beginning and the End. To all who are thirsty I will give freely from the springs of the water of life. 7 All who are victorious will inherit all these blessings, and I will be their God, and they will be my children."
Revelation 21:1-7
This is the hope of Christmas. This is why we celebrate. Because of a little baby named Jesus born some 2000 years ago, we have the hope of eternal life with God – where there is no more death, no more sorrow, no more crying, no more pain. Just everlasting abundant life – just as God intended it. That's a gift worth celebrating.