This video was certainly made to make a point – but I like it mostly because it asks a really good question. They frame it in different ways, but really, the bottom line of what they're asking is "What does it look like to make disciples?"
Does it look like a big building and lots of programs? Does it look like a soup kitchen or a Bible study? Are disciples made in a Sunday morning service or over coffee at Tim Hortons?
And furthermore, how are you and I supposed to be involved in the whole process? What is our own discipleship look like? Is it faithfully attending church every Sunday? Is it signing up for a small group Bible study? Is it going for coffee with a mentor every second Wednesday?
What does it look like to be a disciple? And what does it look like to make disciples?
Because that really is the core of what Jesus has called us to do. I think that's the main reason why we are still on this planet. We are called both to be disciples and to make disciples.
So exactly what does that look like?
Two Sundays ago, we baptized Allison and Lisa – and they declared in front of all of us by being baptized, that they desire to be a disciple of Jesus. And I know that many of you have made that same declaration – either through public baptism or through just your own personal resolution.
So what do we need to do? What do Lisa and Allison need to do now – to be disciples of Jesus Christ? How does that actually play out in their lives? How does that all play out in our lives?
Well, it's those questions that are exactly I want to explore in the next few weeks as we look at "Discipleship that Fits".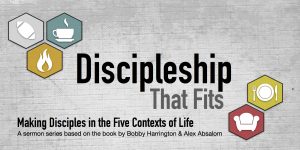 I think most of us would agree that Jesus calls us to make disciples. I think we've heard that often enough. But I think we struggle with figuring out exactly how we do that. In fact, I'd argue that many of us struggle just to understand what it really means to be a disciple.
So to help us work through all this, here's my plan for the next several weeks. First of all, I want to bring some clarity to what it means to be a disciple – that'll be my main focus for this week. But then, in the weeks to follow, I want to look at some practical ways for us to be discipled and to make disciples within five different contexts of life.
And I'll explain all that a little later – but my framework for these messages is coming from a book I read some time ago called 'Discipleship that Fits' and I'll be borrowing quite a bit of my content from those pages. Don't worry – the Bible is still very much the foundation for everything I'm going to say, but this book has just helped me organize my presentation of those Biblical truths. You're welcome to read the book yourself – it's a pretty easy read and of course, is very Biblically based.
So in order to clarify exactly, what is a disciple, I think perhaps the best place to start is with the great commission. This is the passage where Jesus' original disciples are directly commanded to go and make disciples. It's found in Matthew 28 – starting at verse 18. To give you the context of this passage, Jesus has just risen from the dead, he has appeared to his disciples, and he's about to return to his Father in Heaven. And so Matthew is about to conclude his whole account of Jesus' life on earth with these final sentences from Jesus. This is what it says:
Leave a Comment