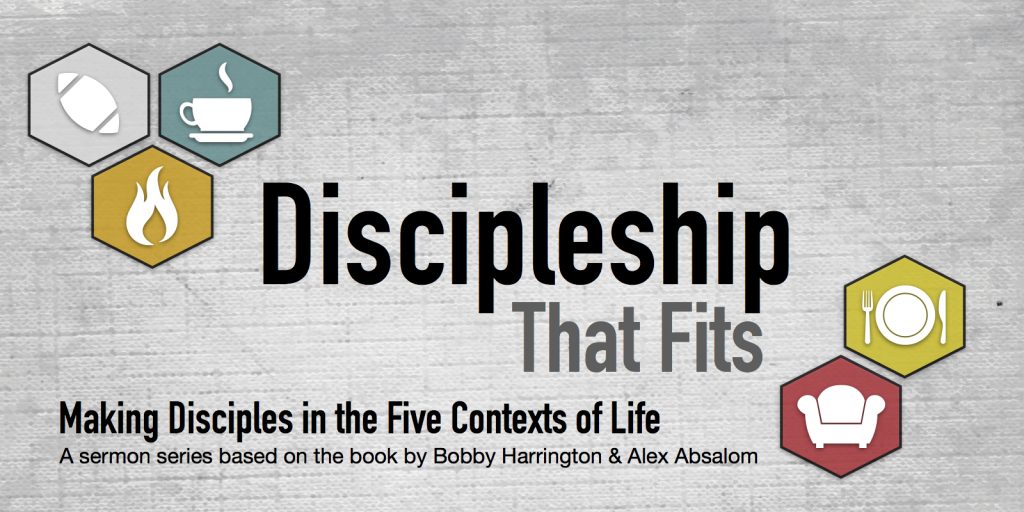 "Helping People Trust & Follow Jesus"
That was one of our main lessons from last week and it was based on the Great Commission found in Matthew 28:18-20.
18 Jesus came and told his disciples, "I have been given all authority in heaven and on earth. 19 Therefore, go and make disciples of all the nations, baptizing them in the name of the Father and the Son and the Holy Spirit. 20 Teach these new disciples to obey all the commands I have given you. And be sure of this: I am with you always, even to the end of the age." Matthew 28:18-20
We summed up the main ideas in this passage and ended up with this easy-to-remember statement about what discipleship is all about: helping people trust and follow Jesus.
And we brought up this whole topic of discipleship, not because this is some crazy, new idea that we should make disciples. I think most of us are well aware that Jesus has commanded us to go and make disciples. That's one of our main purposes in this life as Christians. To be a disciple of Jesus, and to make disciples of Jesus – or as we've defined discipleship here, to help people trust and follow Jesus.
And so we're not bringing this up because we didn't know that we're supposed to make disciples. But rather, we're bring this up because I think a lot of us don't know how to make disciples. I think we want to make disciples – we want to help people trust and follow Jesus – but we're just not sure how.
Obviously being a disciple of Jesus means doing what Jesus did – but we can't replicate everything that Jesus did. We can't walk on water, we can't give sight to the blind or bring people back to life. And even if we leave out the miracles, I'm not sure we're in a position where we can have 12 grown men following us around everywhere – living life with us. All that stuff seemed to work really well for Jesus as he made disciples, but I don't think that's what he expects of us today.
So somehow, we've got to learn the principles behind what Jesus did so that we can live out those principles in our current context. We've got to find a discipleship model that fits.
Leave a Comment